Suitable for all riders of various skill levels. The Coaches come from various motorcycling backgrounds including road racing, road riding, motocross, motorcycle mechanics and licensing. Exercises are designed to enhance all facets of motorcycle enjoyment and safety including:
Bike preperation. Simple checks and everyday maintenance.
Rider preperation. Apparel and mind set.
Accelerating. Being safe on the move.
Braking.
Cornering and steering.
Vision.
The science of traffic.
The enjoyment of two wheels.
Junior Training including Kick Start Accreditations.
Our courses can be modified to suit any individual or groups requirements. We can prepare you for a big road trip, a track day experience at Mac Park or any other circuit you would like to ride or help you start your racing experience.
Contact Mac Park 0448 951 163 to arrange your placement.
ACCREDITED MOTORCYCLING AUSTRALIA COACHES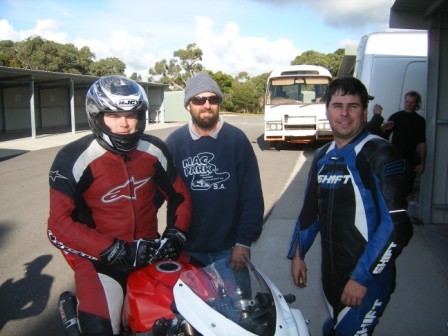 Head Coach – Darren Trotter (middle)
Mob: 0428 854 329
Coach – Dave Trotter (left)
Coach – Travis Gilmore (right)
Talk to us about how we can refine your Riding Skills and increase your Motorcycling Enjoyment.
Go to our "Calendar" page to see scheduled Coaching Days or contact Darren to see if other dates can be arranged.